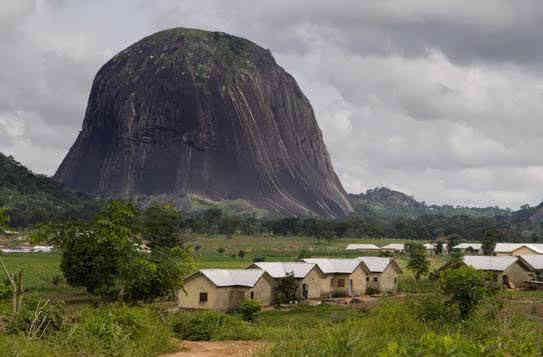 This page contains the full list of Mountains In Nigeria and their Locations.
There are many mountains that tower over the country. These are stunning peaks that serve a variety of functions, including tourist attraction. These mountains are typically classified based on their elevation levels and other details. You might be wondering which of these mountains is the tallest. This article will provide you with a view of Nigeria's highest mountains. This will also include their elevation levels, location, and some other information about the upward physical landmass.
TOP 5 HIGHEST MOUNTAINS IN NIGERIA
In Nigeria, there are a lot of mountains which have different elevation level that distinguishes to them from others. The following is the highlight of the top five highest points in the country:
CHAPPAL WADDI
This is the highest point in Nigeria, located near Cameroon. The mountain's elevation is 2419 metres. It is located in the Gashaka Gumti National Park in Taraba state.
MOUNT DIMLANG
This mountain can be found in Adamawa State's Shebshi Mountains. Mountain Dimlang's peak rises to about 2,042 metres. The mountain's peak borders others in the Shebshi Mountains region.
HILLS OF SHERE.
The Jos Plateau's Shere Hills are a collection of undulating hills and rock formations. The mountain is located approximately 10 kilometres east of Jos, the capital of Plateau State.
Also see Nigerian herbs that boost fertility – Top Yoruba Herbs For Fertility That Works

TCHANGUÉ.
This mountain is one of the highest points in the country, standing at 1 795m/5 889ft above sea level. It is a mountain in the country's Atlantika Mountains.
HENDU CHAPPAL
This mountain, which stands at 1 803m/5 915ft above sea level, is also part of the Atlantika Mountains. Chappal Hendu mountain stands 578m/1 896ft tall.
That concludes the top five tallest mountains in the country; now, let's look at the entire list.
LIST OF ALL MOUNTAINS IN NIGERIA AND THEIR LOCATION
Now, let's go over all of Nigeria's mountains and their locations in case you're curious about which point is the highest in the country. Chappal Waddi is Nigeria's highest peak, standing tall among hundreds of others. The elevation of the mountain is 2419 metres. It is located in Taraba state's Gashaka Gumti National Park. If you want to know about the following ones on the list, keep reading until the last punctuation mark as we will reveal more.
The mountains in Nigeria are depicted in tabular form below. The list is arranged in descending order by elevation level and height. They are as follows:
.