Wife of Super Egles forward Peter Olayinka has given birth to a bouncing baby boy and mother and child are okay
Peter Olayinka broke the news himself on social media with his wife Yetunde Barnabas sitting close to him
The 26-year-old has only played two games for the Super Eagles and he is aiming to feature more for the team
Actress Yetunde Barnabas has given birth to a bouncing baby boy for Super Eagles forward Peter Olayinka who shared the adorable photo of them at the hospital on social media.
Peter Olayinka and Yetunde Barnabas were wed in Lagos in March 2021, and they have been cohabitating contentedly ever since.
Peter Olayinka expressed his happiness at becoming a father in a statement he posted alongside the photo, thanking God and his supporters.
Nigerian model, beauty queen, actress, and producer Yetunde Barnabas.
She first came to prominence as the 2017 champion of The Most Beautiful Girl in Abuja pageant, and in 2019 she was named Miss Tourism Nigeria.
See awesome photo of Peter Olayinka and Actress Yetunde Barnabas below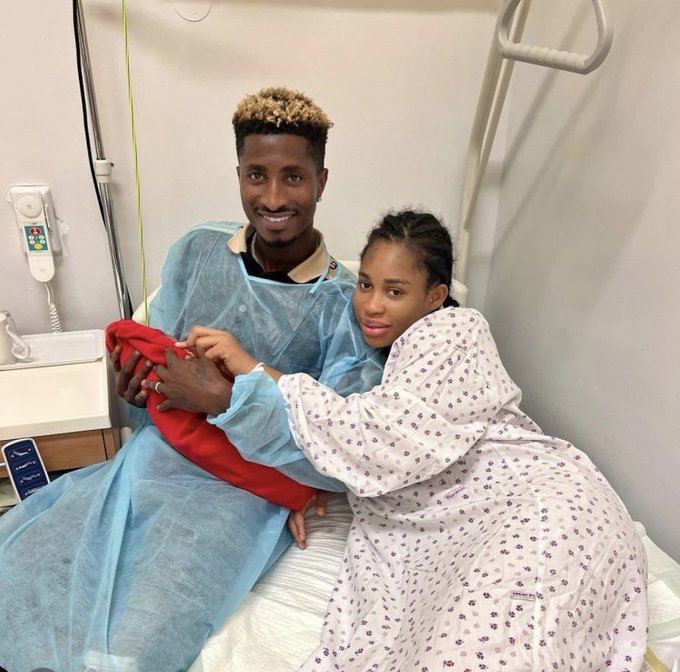 Jubilation As Top European Giants Sign Super Eagles Star in Mega Million Move
Earlier, Ejes Gist Sports reports thag Ishaq Kayode Rafiu, a winger for the Super Eagles, signed a three-year contract with Nigerian League champions Rivers United
Before finally being able to secure the signing of the winger who scored 14 goals during the recently concluded Nigerian League season, the club faced stiff competition from some African giants.
Ishaq Kayode Rafiu was outstanding for Rivers United during the previous Nigerian League season, and his performances helped him earn a call-up to the Super Eagles.
He was a member of the Super Eagles team that competed in the international exhibition game in the United States against Mexico and Ecuador.
Ishaq has been signed by NK Maribor, and they expressed their joy at the prospect of having him on their team.
Tuchel travelled to the second-largest island in the Mediterranean Sea with his new partner for the holidays after returning from his team's preseason tour of the US.
The couple, who seemed to be head over heels in love, were enjoying a romantic boat ride at dusk.
Thanks for reading Actress Yetunde Barnabas gives birth for top Super Eagles star as adorable photo emerges