Nollywood Loses Another Star Actress To Death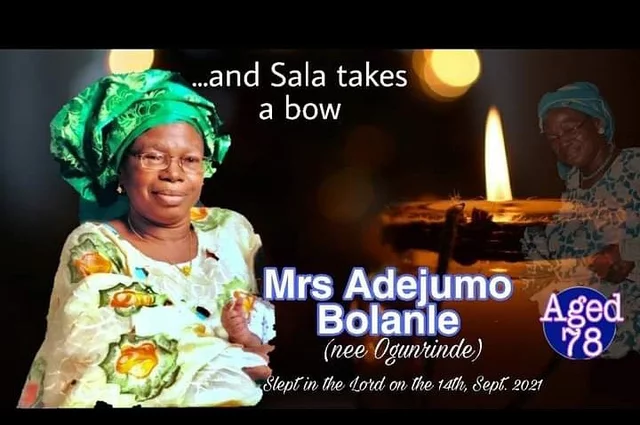 The family of Late Moses Adejumo better known as Baba Sala is at the moment in a mourning mood, following the passing away of his beloved wife, Mrs Adejumo Bolanle who died at age 78.
Though we were unable to get more details about her death as of the time of filing this report, we gathered that she died some hours ago.
Her son, Adejumo Boisala Emmanuel posted the below Information to break the news on his social media page some hours ago.
"And finally, Sala takes a bow, I celebrated her 78th birthday in July, she did not tell me she will be going to eternity soonest. My mum started with my dad in the comedy company, Alawada Comedy Group and she was the one to first played the role of Sala on stage, the role she played for almost 15 years before another junior wife took over.
I love her so much because she is abiyamo tooto.
My mother left me oooo.
I can't just forget you mum. I did not expect this at this time mum but there is nothing we can do as God knows the best. Love you so much, mum.
Just rest in peace"
Sad One – WhiteMoney's Instagram page of Over 693k Followers is nowhere to be found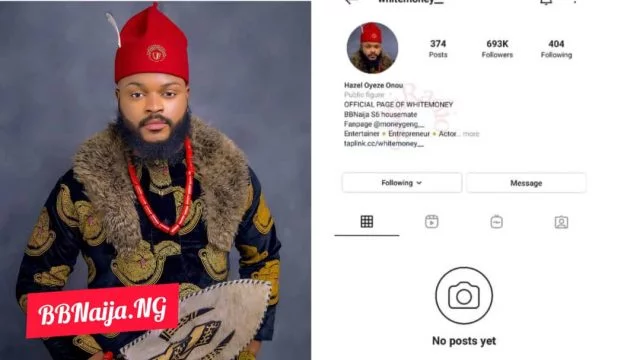 Big Brother Naija Season 6 'Shine Ya Eye' housemates Hazel WhiteMoney Onou Instagram page of over 694k followers has reportedly been hacked as it is currently nowhere to be found.
As a celebrity, the first place to build up your public visibility is Instagram which is the popular Photo and Video sharing app which with a large number of followers can get you a wide range of visibility before the world
The Instagram Page of WhiteMoney is currently not available in the video and Picture app, the most painful part of it is because WhiteMoney currently has a massive number of fans with over 693,000 and a backup page of over 50,000 followers.
Recall that this way, Sammie who is a former Big Brother Naija Season 6 housemate Instagram Page with 99K followers was hacked till right now the page is still not restored as his handler opened a new page which he is currently using outside the house.
Same way, former big brother naija Season 6 'Shine Ya Eye' female housemate, Beatrice verified Instagram page was also hacked luckily for her it was restored few days after her eviction.
Right now as you are reading this article the Instagram page of WhiteMoney Hazel Onou is currently nowhere to be found. Hmm We pray this is not the end.
Singer Tiwa Savage causes a stir on the internet with her jaw-dropping pictures in a waterfall [Video]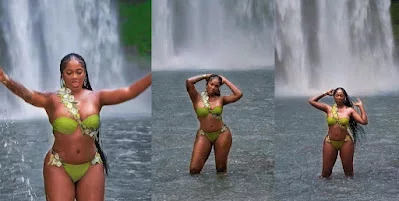 Sensational singer Tiwa Savage has caused a stir on the internet as she released some jaw-dropping pictures she took in a waterfall.
The singer who just buried her father weeks ago has served hot drips to her fans as she dressed in a swimsuit, exposing her full figure and shape.
Having passed through a lot before delivering nice shots, Tiwa recounted how she and her team were on a road trip for six long hours just to locate the best view for their content with no food and drink. And a heavy chilly rain came to cheer them up.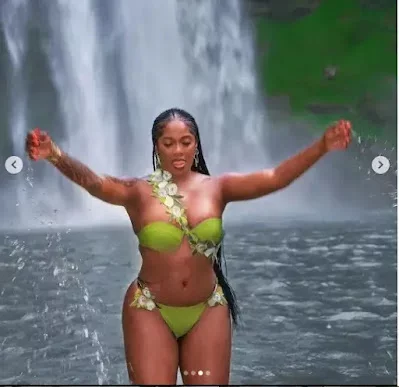 The mother of one added she developed muscle pulls after climbing 250 steps to get to the bottom of the cliff, back up again and could not get a decent place to pee when pressed.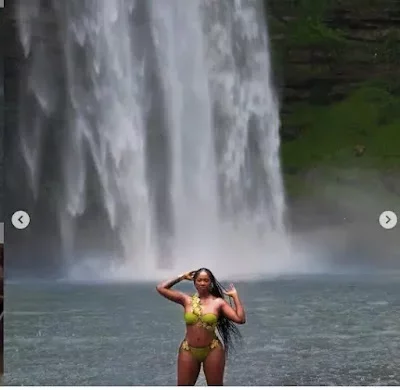 She wrote:
God bless all content curators ooo
My team: Tiwa we should drive to the waterfall and create nice content
Me: Sure, I'm sure we only need a couple of hours
After 6 hours drive, missing the road, finally finding the road, no food or drinks, muscle pull on my leg, nowhere decent to pee, it starts pouring down with rain. The water was cold. We had to climb 250 steps to get to the bottom and back up again … JUST TO TAKE A PIC
If you people don't like these my pics nobody's son will find you o 😩