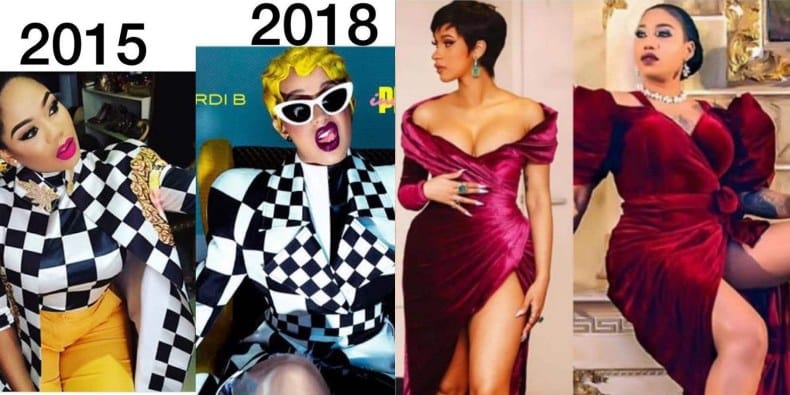 Nigerian fashion entrepreneur, Toyin Lawani has just suggested that American rapper, Cardi B may be jacking her fashion style.
Sharing these photos, Toyin Lawani wrote;
@iamcardib my boo is this A coincidence Or we Are twins I dnt get, if my dates weren't accurate now Nigerians will say Tiannah copied you and switched it around, cause they don't believe Nigerians Are this Talented , they never support their own.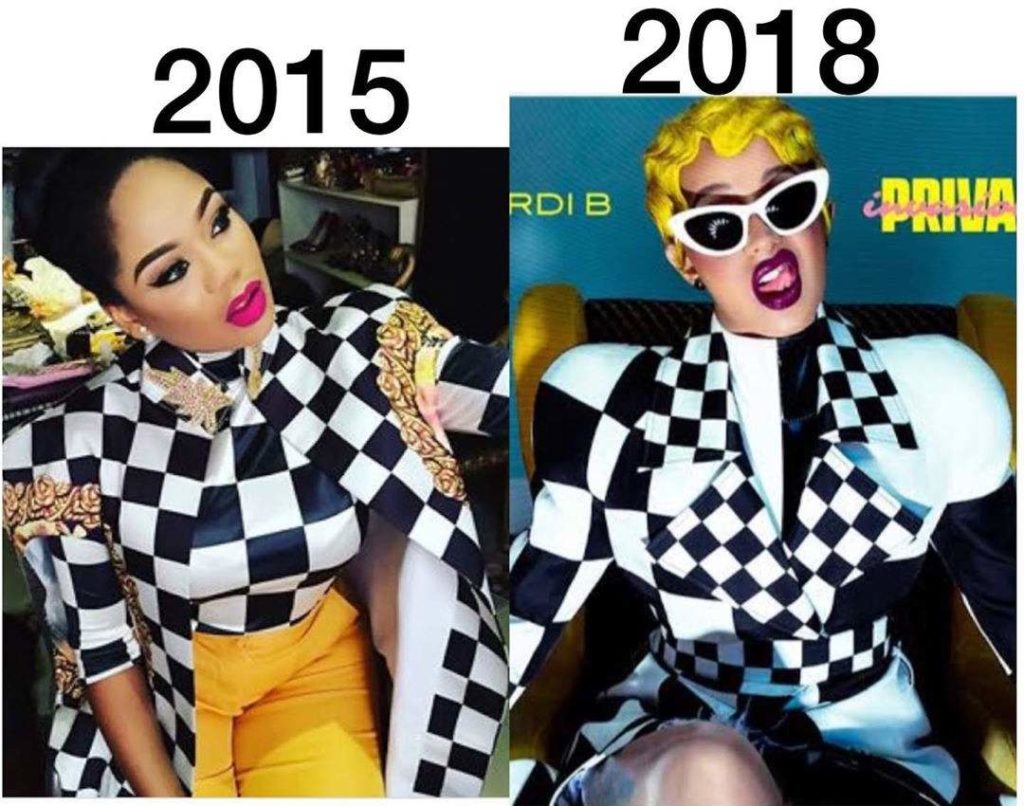 U nid to knw our work can get seen by their people too & it might be inspiration for them & they will tweak it around Abit , cse I'm aware the styles are not exact but they are similar same way I send my work to celebs abroad it can get copied in that process too, The Big companies that mass produced my collections & distributed it into the main markets in Nigeria saw the pictures some where too na I created this master pieces via @elegantebytiannah styling Year's before this, use google you will see them online with dates and events I wore them to.
My point is Nigerians need to Realize we Are very powerful and We Are Great worldwide, we are admired worldwide for our creativity and uniqueness, so let's be our brothers & sisters keeper & push our creatives more internationally, if Tiannah style metGala their celebs go faint nio, case them no Reach my creativity, my master pieces are always a hit back to back.
ALSO READ: Wizkid's Ex-Girlfriend, Tania Omotayo Bags Endorsement Deal
We show no mercy when it comes to Amvca, this year people sent me few creations that were similar to mine at met gala and asked why I wasn't styling them myself they even tag me on @ladygaga s transformer saying I did it tv stations started calling me for interviews, I'm like ah see everything takes planning &timing , there's no rush ,I gat this will make u guys extremely proud, the time is nearNigeria always limits my creativity but internationally they yearn for my creations, I make more money On my Abroad clients than here, if u are not careful you will just be making asoebi everyday here & be wasting ur gud creations as one off, whn it's Avant-garde Abroad& it's well paid for,
So i joined forces with the baddest Talent manager in losangeles , so now you will get to see my creations on the Bodies I have always wished to style , Nigeria to the world, no mercy My Dreams Are About to come through, I always said it that if Gucci can do it& be worldwide, Tiannah can do it #FASHIONGODDESS
See more photos below;