Nollywood actresses Toyin Abraham and Adebimpe Oyebade have been named among the top 100 women in Lagos.
As a way of commemorating International Women's Day (IWD), the award is given to 100 women who are doing good in Lagos .
On Wednesday, the actors announced their awards on their respective Instagram pages.
Toyin Abraham posted a photo of her plaque on Instagram, thanking Lagos State Governor Babajide Sanwo-Olu for the honour.
"Thank you, Sir, and thank you, Your Excellency @jidesanwoolu and @lagosstategovt." Thank you for the acknowledgement. In both English and Yoruba, she wrote, "Eshey Modupe, Eko o ni baje."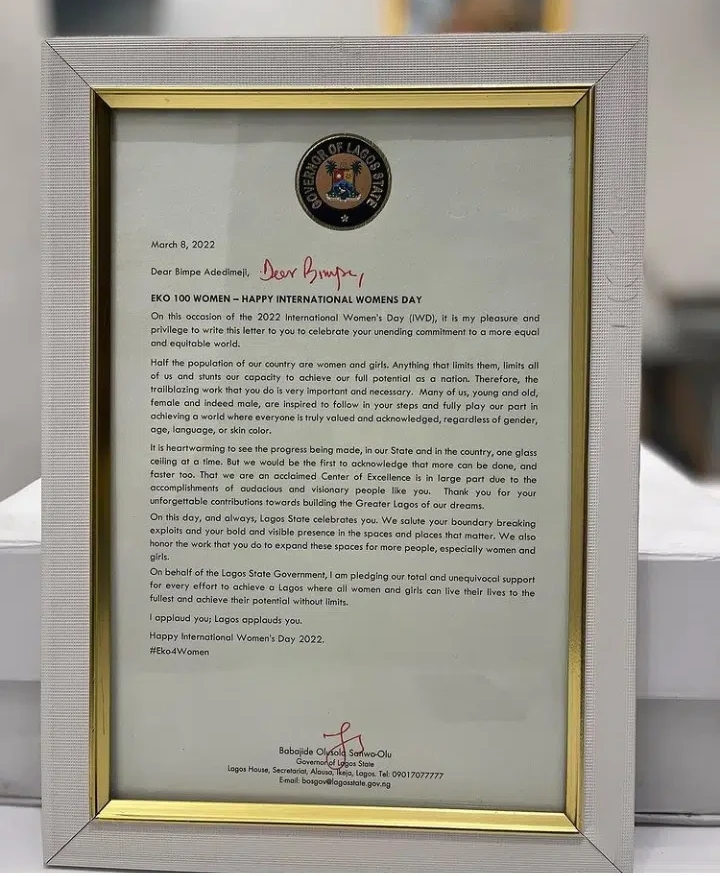 Mo Bimpe also posted a photo of her plaque, thanking the governor and the state government for the honour.
"A big thank you to His Excellency @jidesanwoolu, Governor of Lagos State, for this heartwarming recognition," she wrote.
"There is nothing more exciting than being recognised for what you do."
"On International Women's Day, the Lagos state government @lagosstategovt named me among the Eko 100 Women, and I'm grateful beyond words."
"DEAR YOUNG WOMAN, This is to let you know that the entire world is watching, and you will undoubtedly be praised. Don't give up, don't give up trying, and don't give up breaking the bias.
"Thank you, Governor Babjide Sanwo-Olu @jidesanwoolu, once again. "Eko o ni baje!" exclaims the narrator.
That is all the information on Toyin Abraham, Mo Bimpe make Lagos top 100 women list, Thank Sanwo-Olu.