After finishing the season equal on 23 goals, Liverpool striker Mohamed Salah and Tottenham's Son Heung-min will split the Premier League's Golden Boot trophy.
Salah led the scoring charts heading into the last day, one goal ahead of the South Korean.
Tottenham won 5-0 at Norwich, but Liverpool won 3-1 against Wolves thanks to Salah's late goal.
Salah has now won the prize three times.
He previously won the Golden Boot in 2017-18, when he scored 32 goals, and again in 2018-19, when he scored 22 goals.
Salah was tied for first place in the scoring lists with Sadio Mane of Liverpool and then-Arsenal striker Pierre-Emerick Aubameyang of Arsenal in the latter scenario.
Salah has scored 23 goals this season, including a hat-trick in a 5-0 win over Manchester United on October 24.
By the 12th of March, he had scored twenty goals, but his scoring form began to wane after that, with two goals in a 4-0 home win against Manchester United on 19 April and one more against Wolves.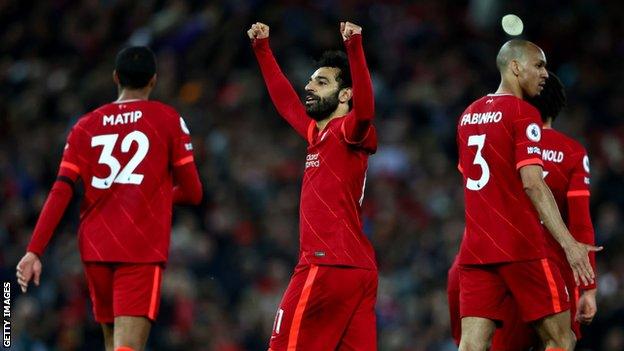 Unlike Mohamed Salah, Son scored nine goals in his last ten games, including six in his final five, to propel him to the top of the scoring lists.
This season, he scored a hat-trick in a 4-0 win over Aston Villa in April.
"It's incredible to have this award," Son stated. "It's unbelievable. I became quite emotional. As a kid, I fantasised about it. It's literally in my hands. It's unbelievable."
Ederson and Alisson share Golden Glove
After concluding the season with 20 clean sheets each, Manchester City goalkeeper Ederson and Liverpool goalkeeper Alisson split the Golden Glove title.
Ederson has only missed one Premier League match this season, a 2-0 win over Burnley in October, while Alisson has only missed the Reds' 5-0 win over Watford in October and the 2-2 draw at Stamford Bridge in January.
They finish ahead of Tottenham goalkeeper Hugo Lloris, who has 17 clean sheets this season.
In each of the previous two campaigns, Ederson was the outright winner, but Alisson took the prize in 2018-19.
Season's Best Playmaker
Salah is also the winner of the Premier League's Playmaker of the Season award, which was established in 2017-18 for the player with the most assists.
The Egyptian has 13 assists this season, one more than his Liverpool teammate Trent Alexander-Arnold.
Mohamed Salah has now scored and assisted in double figures in four of his five league seasons at Anfield. Only in 2020-21, when he only set up five league goals, did he fail to do so.
Salah's Liverpool teammate Andrew Robertson, Chelsea's Mason Mount, and West Ham's Jarrod Bowen have all had ten assists this season.