Buhari has Made Fresh Appointment. 
The Federal Government (FG) led by President Muhammadu Buhari has approved the appointment of Bulus Yakubu as acting Postmaster General (PMG) and Chief Executive Officer of the Nigeria Postal Services through the Minister of Communications and Digital Economy, Isa Pantami (NIPOST).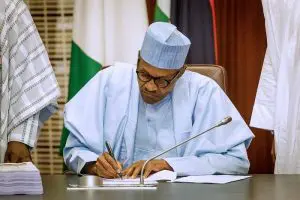 This was stated by NIPOST spokesman Franklyn Alao in an announcement on Thursday in Abuja.
Mr Yakubu was the Secretary to the NIPOST Governing Board, Director (Special Duties), and NIPOST Liaison Officer to the National Assembly prior to his appointment.
Mr Yakubu, who holds a Bachelor of Laws degree from Ahmadu Bello University, is a member of several professional organisations, including the International Bar Association (IBA) and the Nigerian Bar Association (NBA).
He is also a Fellow of the Nigerian Institute of Corporate Administration and the Institute for Fraud Management and Control.
According to the statement, he joined the Nigerian Postal Service in 1990 and has served in various capacities with a proven track record of excellence.
Mr Yakubu succeeds Dr Ismail Adewusi, who was named NIPOST PMG in 2019.
Peoples Gazette is the source.
FG may withdraw ASUU's registration over failure to submit audited account.
INDICATIONS emerged Wednesday that the Federal Government may withdraw the Academic Staff Union of Universities, ASUUregistration ,'s as a trade union due to its alleged failure to submit audited reports as required by law in the previous five years.
Already, the Registrar of Trade Unions is said to have written to the union, asking why its certificate of registration should not be revoked for violating the law.
This is because medical university lecturers have applied to the Ministry of Labour and Employment to be registered as a separate trade union under the auspices of the Nigerian Association of Medical and Dental Academics, NAMDA.
The group has also stated that it did not participate in the ongoing strike by its parent organisation ASUU, but rather that its members were locked out due to the union's declared industrial dispute.
It stated that it would soon begin examinations for medical students at the 500 and 400 levels, noting that the country is in desperate need of medical doctors and that it would not be in her best interests to lose a year due to a strike.