Policeman who fatally shot and killed a driver for allegedly refusing to hand him N100 bribe in Ondo has surrendered
Idowu Omosuyi, the police officer that reportedly shot and killed a truck driver along the Akure-Owo Expressroad, Ondo State has finally surrendered himself to the police authorities.
ALSO READ : Don't handcuff me in public, Kalu begs prison warders as He wept bitterly
Sergeant Omosuyi surrendered himself at the Ondo Police Command headquarters on Thursday, December 5th barely twenty-four hours after he was declared wanted by the police authorities.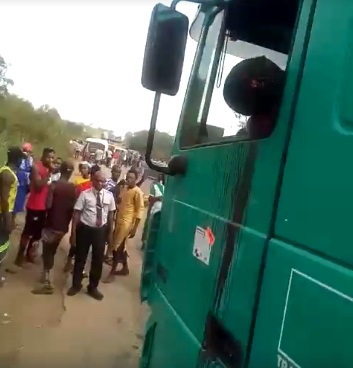 The Police Officer, who is attached to the Federal Highway Patrol, had on Monday, allegedly shot Ado Saleh in the head at a security check point after the latter refused to pay him a bribe. The truck driver died on the spot.
The Police Spokesman in Ondo state, Femi Joseph, who confirmed his appearance at the police headquarters said that the police officers would face a disciplinary panel.
READ ALSO :Islamic Group Condemns Transfer Of El-Zakzaky, Wife From DSS Custody To Prison
"The officer (Sergeant Omoniyi) would now have to face a panel of investigation that was set up by the Commissioner of Police on the case.
"We have repeatedly said that the case would not be swept under the carpet and just as we have assured members of the public that the Nigeria police shall continue to abide by the laws and protect the lives and properties of the people," he said.
 BREAKING: APC Senator, Orji Kalu to spend 12 years in jail