Nnamdi Kanu's supporters stage protest in Italy
Ahead of the arraignment of the leader of the proscribed Indigenous People of Biafra (IPOB) Nnamdi Kanu, by the Nigerian government on Wednesday, his supporters in Italy have staged a rally in the ancient city of Rome.
"Mazi Nnamdi Kanu's followers all over the world have been mobilizing and holding protest demonstrations to push home the worldwide demand for his release," IPOB's Media and Publicity Secretary, Emma Powerful, said in a statement made available to Ejes Gist Newspaper on Wednesday.
"The demonstration in Italy, which took place on Tuesday in the old and historical city of Rome, was conducted by white men in favor of Mazi Nnamdi Kanu, our tireless leader and supreme commander."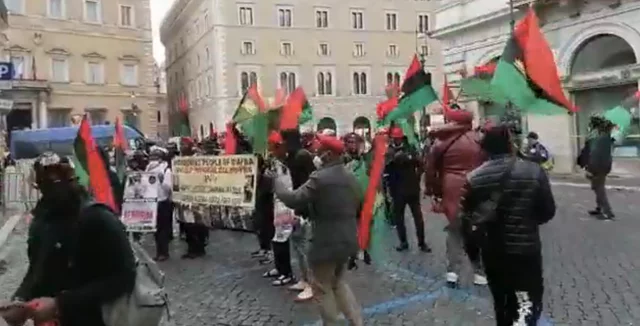 The marchers were holding various signs "expressing support with Kanu, while demanding his immediate release from the detention of the Department of State Services (DSS)," he added.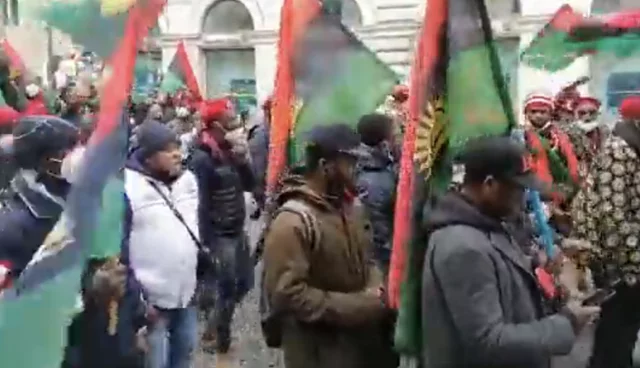 "What does this say to the Fulani Nigerian government about the innocence of a man they have been attempting to crucify for so long?" Apart from seeking self-determination for Biafra's marginalized people, what crimes did Mazi Nnamdi Kanu commit?" Powerful enquired.
Kanu is scheduled to appear before Justice Binta Nyako of the Federal High Court in Abuja on Wednesday to continue his treasonous felony trial.