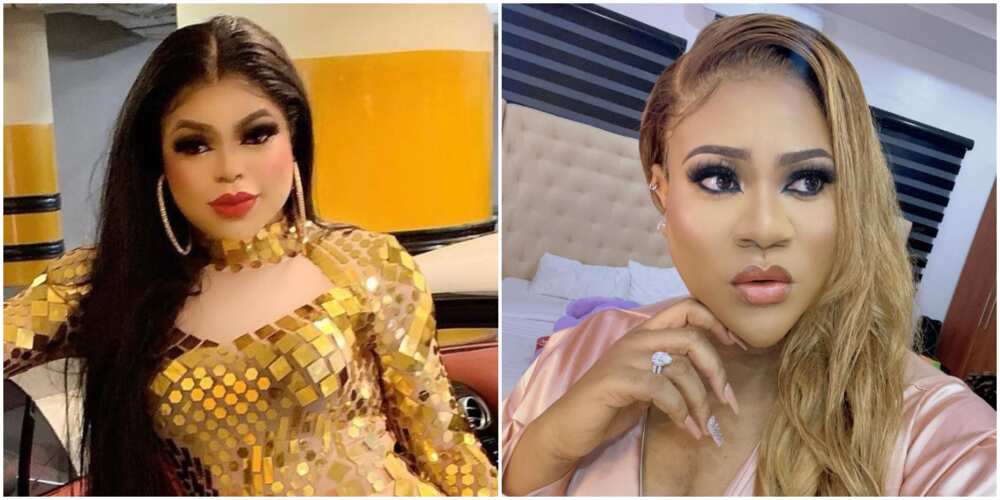 After she deleted posts that she made about him, Nigerian crossdresser and brand influencer Bobrisky took to his page to mock Nkechi Blessing Sunday.
Blessing Nkechi After a few minutes of posting, Sunday took to her Instagram page to throw shades at Bobrisky, but she deleted her posts. Bobrisky took to his page to mock the actress for running away from fighting him, reacting to Nkechi's deleted posts. So you're fit to run Chai. I like the battle to last like 1 week. Never look for python problems again in your life. The Idiot!!!
Tattoo drama: Bobrisky and actress Nkechi Blessing fight ugly online, wash dirty linens in public  
After they both resorted to name-calling and exchanging words on social media, controversial crossdresser Okuneye Idris aka Bobrisky and Nollywood actress, Nkechi Blessing Sunday, have given fans something to talk about.
The drama began after Bobrisky took a screenshot of a comment the actress made days ago on his Instagram page and described him as 'insane' while addressing the trendy tattoo issue of the Ka3na of BBNaija. Bobrisky and the actress Nkechi Blessing are online fighting dirty.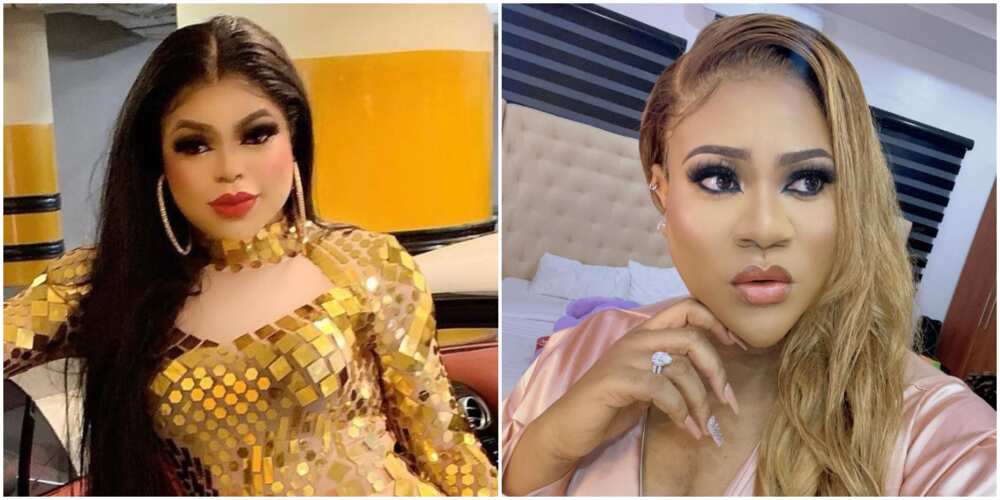 @bobrisky222/@nkechiblessingsunday, photo: Source: from Instagram Bobrisky noted that he enjoys his peace while calling out Nkechi, and as such, the actress should never have any reason to talk about him. I'm a mother of yours: Crossdresser Michelle Page urges Bobrisky not to participate in a makeup contest He was saying: "Nkechi or whatever you call your name!!!! I like my space and peace a lot, that is, I don't follow people here, but you're definitely waking up a dangerous python when you crossed your lane, I know you and clout are 5 and 6 and we're both SHAMELESS!!!! So let the dice roll.
Never mention my name on your stupid page again in your life!!!!! If u nor wan make sango and Ogun strike your entire generation, I repeat." Bobrisky called on the actress to reach out to him personally if she had scores to settle.
He also accused her of not being rich enough to appreciate fans on their bodies who get a tattoo of her name. Shortly after sharing his post, the actress reacted on her Instastory channel noting that she has been getting messages to respond to Bobrisky.
Nkechi, however, said she has no business responding to him as it is still very early in America where she is at the moment. Tattoo drama: Reactions as BBNaija's TBoss lampoons Ka3na See screenshot below: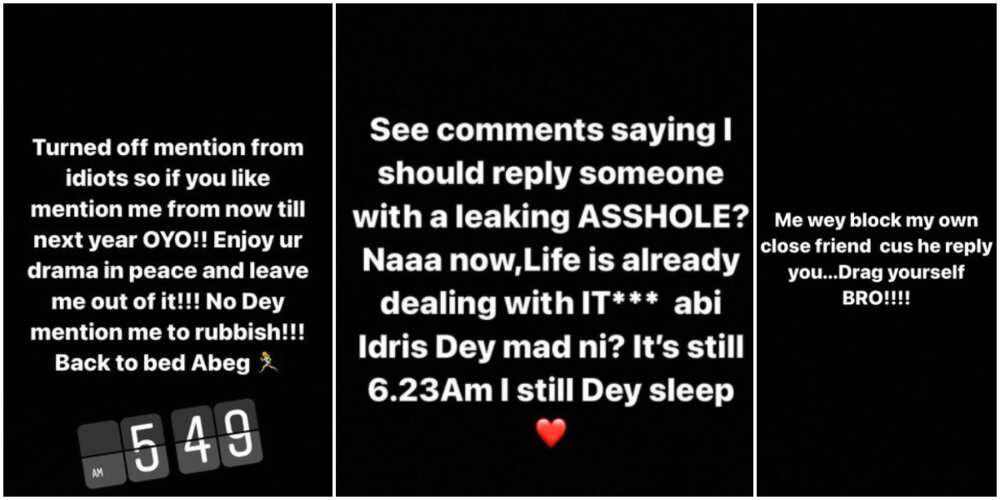 Actress Nkechi Blessing responds to Bobrisky. Photo: @nkechiblessingsunday Source: from Instagram However, it appears the actress had a rethink about responding to Bobrisky as she returned to properly call him out.
She accused Bobrisky of fighting with her because of a man and also hinted about the strained relationship between him and his best friend, Tonto Dikeh. More screenshots below: Actress Nkechi Blessing blows hot at Bobrisky.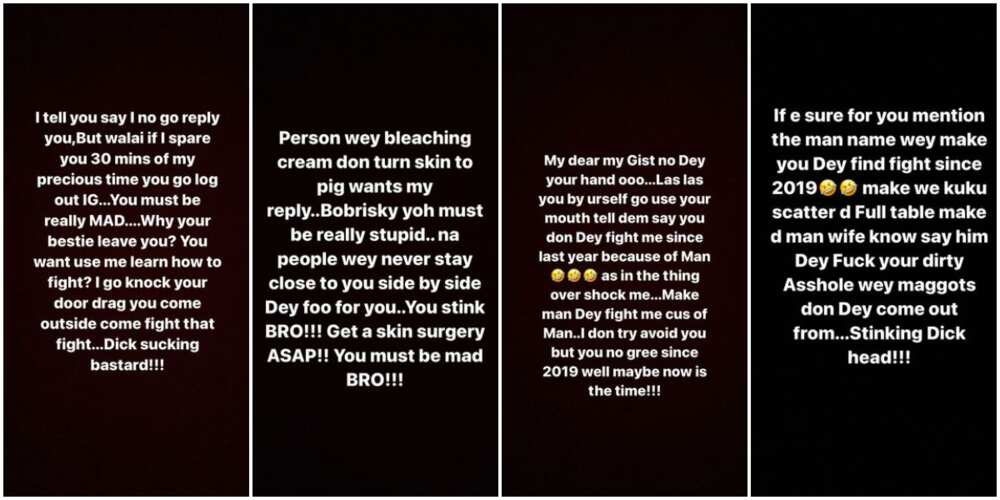 Image: @nkechiblessingsunday Source: from Instagram Bobrisky returned to the actress in a further post shared on his Instagram page in a subsequent development.
The crossdresser took a swipe at the actress' family claiming that her mother used to run a beer parlour. He accused the actress of sleeping around with men and only has a Venza Camry car to show for it. Bobrisky accused the movie star of offering intercourse to a car dealer just to show off to fans that she bought her mother a car.
You are on your own – Nkechi Blessing tells fan who tattoed actress' name on her body He also accused Nkechi of having an affair with a colleague's hubby and coming back to apologise for her actions.
'You remember your favourite celebrity you slept with her husband come they apologise. Why are all d men you post as your husband ended dumpling your as*. Da*n girl you need deliverance. Be a classy ashewo for once .
Part 2 loading." Still picking on the actress, Bobrisky shared pictures of his car while submitting that he didn't have to sleep with anyone to buy them. He went on to ask Nkechi how she has impacted the lives of those around her.
He wrote: "Let me even ask you Nkechi how many lives have you saved from dying, how many people have you helped? In case there is one I don't know please tell me or post if they born your mama well.
your own na to they shake ur EXPIRE as* up and down. Never in your life compare myself to you again. D difference is so clear and bright. I resemble your mama mate? Broke idiot !!!!! Y do people stop doing giveaway on your page? Because you be audio !!!!!! Fake life wan kill you .