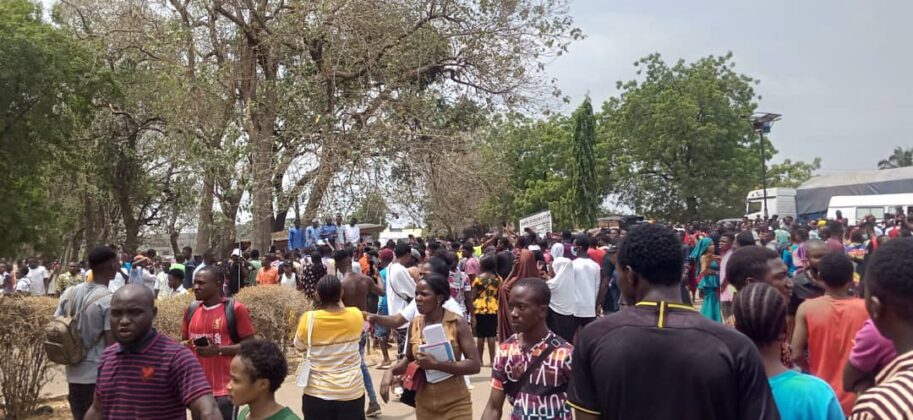 Students gather inside the Polytechnic Lafia after facilities were torched during a protest over increase in late registration fee.
Following a protest by students, the Isa Mustapha Agwai I Polytechnic in Lafia has been closed for one week.
During the protest, students set fire to the school's gatehouse and destroyed other facilities.
Firefighters trying to put off fire set on the main gate building at Nasarawa State Polytechnic by students during a protest.
Dr. Justina Kotso, the polytechnic's rector, made the announcement on Thursday in Lafia, the state capital, while briefing reporters on the measures the administration is taking to prevent further breakdowns in law and order on campus.
According to Dr. Kotso, a committee has been formed to investigate the remote and immediate causes of the protest and report back to management for further action.
"We awoke calmly this morning, preparing our students for their semester examination on Monday, March 15, when we realised the students had begun a protest.
"They began to throw stones, disrupt classes, and carry placards.
"We had a meeting with the students union government when they came to the administrative block, but we had no idea why they started destroying items," the Rector added.
The protest was sparked by the closure of the registration portal and an increase in the late registration fee from N5000 to N10,000, according to the Dune on a fact-finding mission to the institution.
One of the students, who asked to remain anonymous, explained that the school's registration portal has been down for several weeks, preventing students from being entered into the school's database.
"There used to be a lot of people working in the ICT department, but now there's only one man left to deal with all the students who come to pay their school fees. From morning to evening, the students are always there under the scorching sun. Many students have found the situation intolerable, so we are appealing to the institution's management to take action."
However, the Rector refuted the students' claim that the administration shut down the registration portal and raised late registration fees from N5,000 to N10,000.
She stated that the registration portal is open and that the management has not raised any fees, adding that approximately 162 students paid their school fees even on the day of the protest before going on a rampage.
During the protest, students reportedly destroyed a portion of the institution's administrative block, street lights, a water tank, vehicles, and the Information and Communication Technology (ICT) Centre, among other things, according to The Dune.