Latest JAMB News/allschool : Full  List Of Ban Items for 2022 UTME as JAMB gives instructions on biometric verification
The Latest JAMB News for 2022 now is that  "The Joint Admissions and Matriculation Board (JAMB) has reiterated its ban on certain items that are prohibited from being brought into the venue of its examinations as part of its preparations for the 2022 UTME." According to the Board, these items have been noted as having aided candidates in committing examination malpractice.
As a result, the prohibition on these items is intended to safeguard the integrity of the Board's examination, particularly against the antics of some candidates and their accomplices. The Board also reaffirms her stated commitment to zero tolerance for examination malpractice, stating that any candidate or official found in possession of any of these items will be sanctioned appropriately.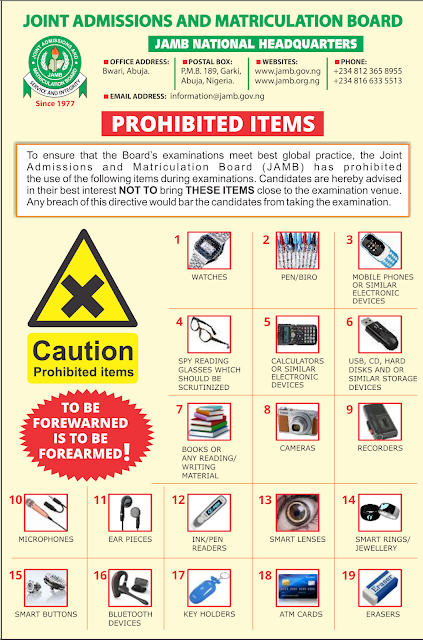 Latest JAMB News: See Full List Of Ban Items For 2022 UTME Examination By JAMB 
Mobile phones, watches, pens/biro, spy reading glasses (unless medicated, which must be verified), calculators or similar electronic devices, USB, CDs, hard discs and other similar storage devices, books or any reading/writing materials, cameras, recorders, microphones, earpieces, ink/pen readers, smart lens, smart jewellery, smart buttons, BlueTooth devices, key holders, ATM cards, erasers, handkerchiefs, face towels, and money are among the prohibited items.
Jamb Latest News on Biometric Verification Instructions
1. Biometric information The only way for candidates to get into the testing centre will be through verification. The guide on mandatory biometric verification of every candidate must be strictly followed.
2. If a candidate cannot be verified, he or she should not be kept waiting. Before leaving, such a candidate should be recaptured at the centre. Following that, only genuine cases will be dealt with.
3. Aside from the biometric verification, there is no other Attendance Register. During examinations, biometric verification will also serve as an Attendance Register.
4. Photo albums will only contain photographs with no indication of whether the person is present or absent.
5. All Exam Officials, including security agents, are responsible for ensuring that all guidelines, rules, and regulations governing the examination are followed.
Jamb Latest News Today and which date JAMB exam will start
In Jamb Latest News Today,
In today Jamb Latest News update, the JAMB mock exam results for 2022 have  been released. Candidates who took the mock exam can now check their results for free on the internet.
We've included instructions on how to access your JAMB Mock Results.
Please follow the procedures outlined below
How to Check JAMB Mock Results
1. Visit the JAMB portal at https://jamb.gov.ng/2022_Mock_Result_Printing
2.In the space provided, type your JAMB Registration Number or email address.
3. When you click "Check mock results" your result will appear.
That is all the latest information on Jamb Latest News today.  You can always visit Ejes Gist Newspaper for Jamb Latest News Updates for 2022
.