#IStandWithBuhari Protesters Fight Over Money In Abuja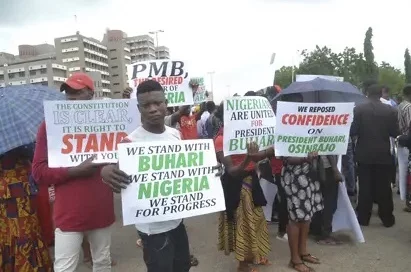 On Saturday, a brawl broke out between members of the #IStandWithBuhari protest group at Abuja's Unity Fountain.
The leaders of several parties were seen having a heated discussion on the distribution of monetary resources earmarked for counter-protest planning.
Human rights activists and civil society groups had called for a nationwide demonstration against President Muhammadu Buhari's administration on June 12.
The demonstration will make 14 important demands, according to numerous  posters, including the abolition of the 1999 constitution, Terrorism, banditry, and other forms of criminality must be eradicated. Isa Pantami has to leave (Minister of Communications and Digital Economy who expressed sympathy for terrorists), All activists who have been detained should be released. Stop the insecurity, and provide justice to all EndSARS victims.
Among the others are Free Kogi2 (two anti-President Muhammadu Buhari protesters, Larry Emmanuel and Victor Anene Udoka, who are being held in Kogi State), Buhari Must Go, and others. Restore electricity tariffs, stop the ASUP (Academic Staff Union of Polytechnics) strike, restore petrol rates, re-register political parties, and free Nicholas Mbah.