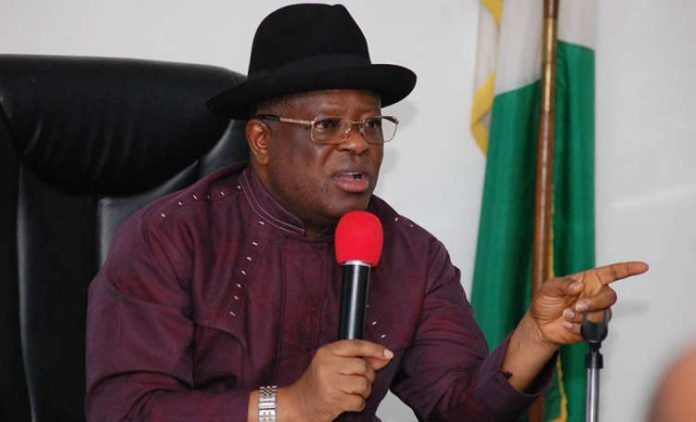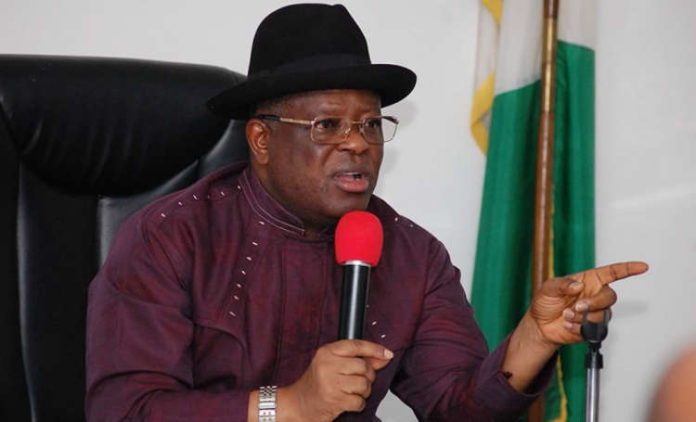 Coalition Of South East Youth Leaders, COSEYL, has described the invasion of Governor David Umahi, the chairman of South-East Governors Forum as an insult to Igbo Nation.
According to Ohanaeze Ndigbo, the unknown security men stormed the place to allegedly plant weapons and ammunition to indict the Governor and blackmail them to reverse their decision on the recent ban of pastoralists.
However, in its reaction, COSEYL in a press statement signed by its President General, Chief Goodluck Egwu Ibem, said it condemns the illegal invasion by the Nigerian Police Force, adding that it is an insult of the highest order to Ndigbo.
"We condemn in strongest terms the vile incursion of His Excellency Gov. David Umahi Abuja residence by the Nigerian Police Force yesterday Monday 2nd September 2019 . The vicious siege of the private residence of a sitting governor with full immunity is an insult of the highest order to Ndigbo.
"It appears it has now become a norm in Nigeria to harass governors of southern part of the country. Sometime ago , they DSS and SSS invaded the government house of Akwa Ibom state where the governor lives with his family and now they have decided to harass the dynamic performing Governor of Ebonyi state and Chairman of South East Governor's forum in order to spite and insult the intelligence of the Igbo Nation.
"The unethical, unconstitutional and vicious coup de main by the police force is because of the South East Governors resolution to stop the killings , kidnapping and maiming of the South East indigenes by murderous fulani herdsmen . They want to harass our governors , so that they will succumb and allow murderous Fulani herdsmen to come into South East through our forest to kill , kidnapp and maim the people of South East .
"It shows that some people in power are sponsoring and heavily financing the killings in South East geo-political zone. Those power brokers behind the killing and kidnapping by murdurous Fulani herdsmen don't want it to stop , that is why they want to harass they Chairman of South East governors to withdraw their ban on movement of cattle by foot.
"We are solidly behind the South East Governors decision to ban the movement of cattle by foot . Since we know it will bring about security in the region, we totally support them and no amount of intimidation should make them shift their ground. The ban on movement of cattle by foot has come to stay.
"It is very sad to note that they police that embark on the illegal invasion don't know and understand the meaning of immunity. Immunity means an exemption conferred on a person in order to protect him from litigation or prosecution . The Nigerian constitution 1999 as amended section 308 (1) accords immunity to the President , Vice President , Governors and Deputy Governors . The import of this constitutional conferment is that no civil or criminal proceedings should be instituted against them while in office . What this position portends is that no such person should be sued or charged to court either in his or her private or official capacity.
"But recent happenings in the country has shown that only governors of Northern states should enjoy immunity as governors while the Southern Governors are not to enjoy immunity as governors.
"The unwarranted incursion of Governor Umahi private residence in Abuja by Nigerian police paid with tax payers money is a travesty of the Nigerian constitution and soveignity . We condemn it in it's entirety and we say " Enough is Enough " .
"We call for immediate probe of the illegal incursion of Governor Umahi Abuja residence by unbiased security agencies to unravel those behind this dastardly act of shame.
"We warn the Nigerian Police force or any other security agency never to try this kind of illegal incursion again to any serving South East Governor . If they dare it again , they will incur the wrath of South East Youths.
"We urge our South East Governors not to be perturbed but they should remain resolute in their decisions .
"We therefore call on all those who think they can intimidate our Governors to drop the ban on movement of cattle by foot to immediately call back their rapists and murdurous Fulani herdsmen .
Aba  City Blog