Take a look at some of today's most popular stories.
FG Shuts Down Mobile Phone Services In Zamfara As Bandits Take Over State
From September 3, 2021, the Nigerian Communications Commission (NCC) has ordered all telecommunications providers in Zamfara State to shut down services. This, according to the telecoms regulator, has become necessary to address the state's rising insecurity.
This is the final move that could completely shut down all economic activity in Zamfara, after the state governor, Bello Matawalle, announced the closure of all weekly markets in the state last week as part of measures to address the state's deteriorating security situation.
The decision was made "to enable relevant security agencies to carry out required activities towards addressing the security challenges in the state," according to a letter addressed to the Chief Executive Officers of telecoms companies.
Prof. Umar Danbatta, NCC's Executive Vice Chairman and Chief Executive Officer, signed the letter titled "Re: Shutdown of All Telecom Sites in Zamfara State."
The letter stated in part, "The pervasive security situation in Zamfara State has necessitated an immediate shutdown of all telecom services in the state beginning today, September 3, 2021."
NCC directed the operators to "shut down all sites in Zamfara State and any site(s) in neighbouring states that could provide telecommunications service in Zamfara State" in order to comply with this requirement. In the first instance, the site will be closed for two (2) weeks (September 03-17, 2021). "Your prompt action is required in this regard," the letter stated.
While the directive was specific to Zamfara State, the reference to any other facilities in any site(s) in neighbouring states that could provide telecommunications service in Zamfara State means that other states sharing the state's borders would be affected by the shutdown.
Depending on the technology of the cellphone network, a service signal from a cell tower could reach up to 45 miles away, according to industry experts. Sokoto, Kebbi, Niger, Kaduna, and President Buhari's Katsina State all border Northwestern Zamfara. To achieve a complete shutdown of service, the operators would have to close some of their sites in neighbouring states, as the regulator has ordered.
Tinubu's Health Worsens After Several Surgeries As Reps' Speaker, Gbajabiamila Joins Political Tourists To London
Bola Tinubu, the National Leader of the All Progressives Congress (APC) and former Governor of Lagos State, is raising more concerns among his supporters, as the multiple surgeries he has undergone appear to have "badly affected" his hands.
Tinubu's condition is currently so critical, according to SaharaReporters, that his two hands shake violently and he has to lean on his guests to pose for photographs.
Political supporters and godsons of APC leader Atiku Abubakar have continued to flock to London, United Kingdom, for a solidarity visit, with the Speaker of the House of Representatives, Femi Gbajabiamila, being the most recent.
Unlike when President Muhammadu Buhari visited mid-last month, the two were photographed sitting while Tinubu attempted to put away his walking stick.
Tinubu's hands and legs are currently failing him, according to a close source close to the APC leader who spoke to SaharaReporters.
"Tinubu is undergoing extensive physical therapy. The hands are trembling violently. After several surgeries, both hands are severely affected. You'll notice that when he takes photos, he leans on his guests or gets sandwiched to avoid having his hands in an embarrassing position," he added.
On August 12, SaharaReporters reported that President Muhammadu Buhari paid Tinubu a visit in London following his (Tinubu's) second surgery.
During Buhari's visit, Tinubu was seen with a walking stick, confirming SaharaReporters' report that he had knee surgery at the John Hopkins University Hospital in Maryland, US.
The APC leader, it was learned, left the US on crutches for the United Kingdom a few days after the surgery.
According to SaharaReporters, Tinubu originally planned to have the surgery in Paris, France, but changed his mind due to rumours of his death.
On July 31, SaharaReporters reported that Tinubu, who has made several medical trips this year alone, had surgery two weeks prior and could be charged for another.
The APC National Leader has been absent from official and party functions in the country for some time, amid speculation that he is being groomed to succeed Buhari's repressive regime in 2023.
"Tinubu is being treated in a hospital in Maryland, United States. His health is deteriorating. He was unable to attend the opening of his Arewa library, as well as the Local Government Area elections held last week. Due to health issues, he was unable to attend today's APC meeting. He had surgery last week, according to a reliable source who spoke to SaharaReporters at the time.
APC splits into three factions in Enugu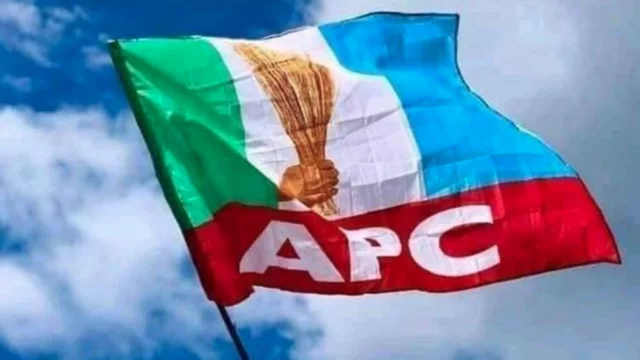 The crisis engulfing the All Progressives Congress, APC, in Enugu State worsened on Saturday with the emergence of a third party faction.
A few weeks ago, there was little sign that the party's feuding chieftains had patched up their differences and were ready to collaborate.
The peace pact, however, fell apart during the party's ward congress, resulting in two parallel executives in most wards.
While the party was still dealing with that, Ejes Gist News reports that it has split into three factions as a result of the local government congress held today, Saturday.
According to reports, one faction supports State Caretaker Committee Chairman Dr. Ben Nwoye, another supports Senator Ken Nnamani, and a third supports Foreign Affairs Minister Geoffrey Onyeama.
Nnamani is said to be in one camp with former Governor Sullivan Chime, while Nwoye is in another with most of the party's founding members, including Mr. Osita Okechukwu, Barr. Okey Ezea, Emperor Baywood Ibeh, and others.
The local government congress, for example, produced Felix Okafor – Osita Okechukwu faction, Onyeka Nwabisi, Minister, Onyeama's faction, and Hyacinth Abala, Chime's faction in Udi Local Government.
The storey is said to be nearly identical in all of the state's 17 local government areas.