Good morning and welcome to Nigerian Newspapers Daily Front Pages Analysis For Tuesday, 26th October 2021 can be accessed below.
Ejes Gist News  brings to you top Stories  making today's headlines on the Front Pages Of Nigerian Newspapers Today Tuesday, 26th October 2021.
No fewer than 18 people were reportedly killed in the early hours of Monday as armed bandits invaded Maza-Kuka Community, Mashegu Local Government Area of Niger State, Daily Trust Newspaper.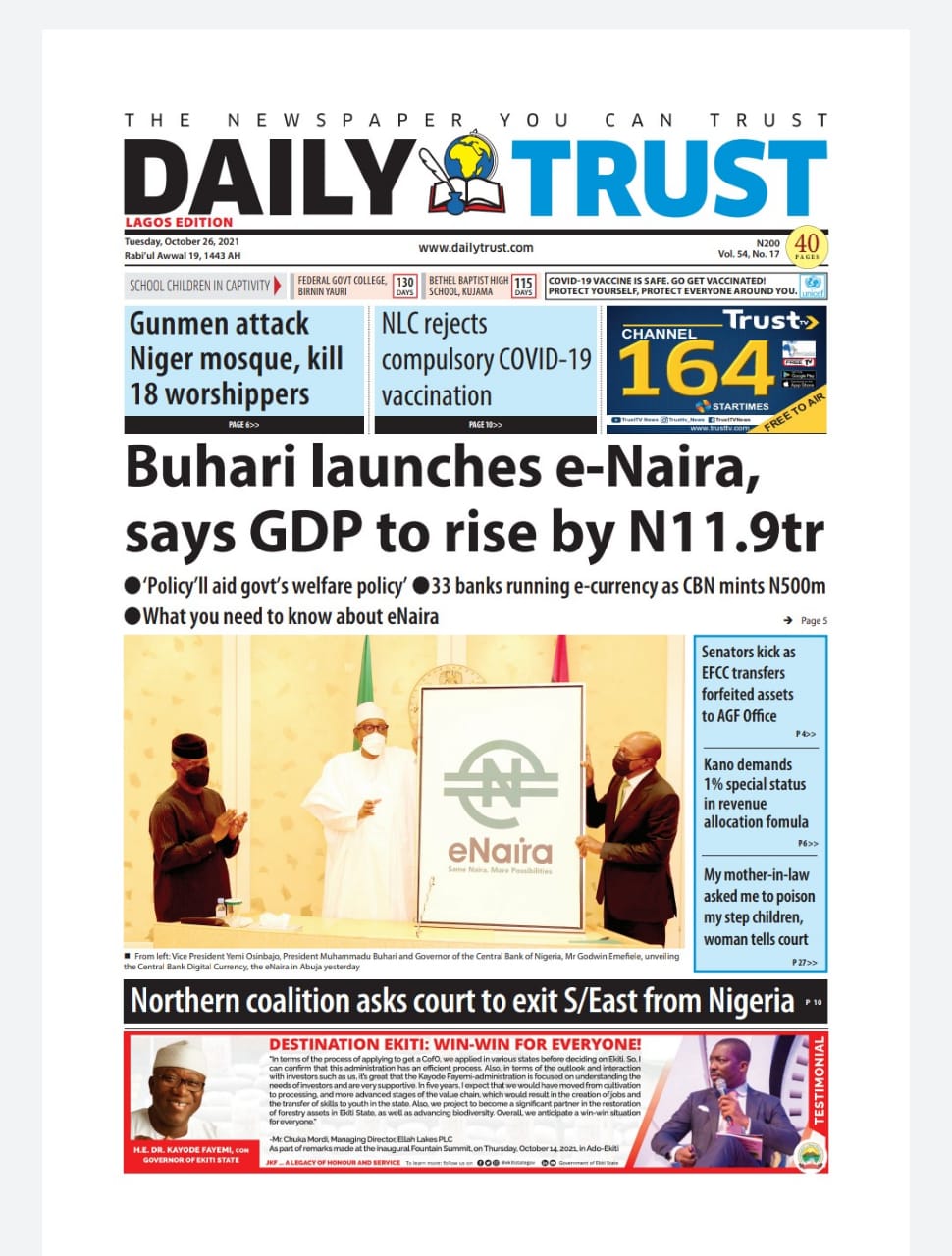 ---
Buhari, during the launch of the eNaira digital currency, stated that it will group the country's GDP by $29billion in 10 years. Daily INDEPENDENT Newspapers  says.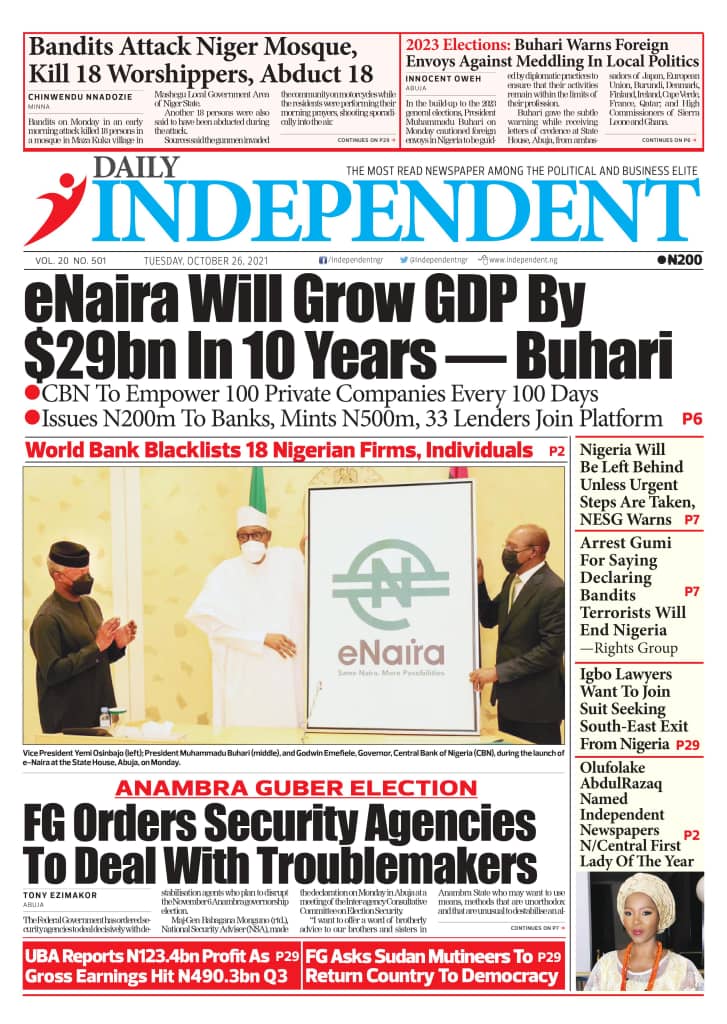 ---
Daily Sun Newspaper leads with controversial Islamic cleric Sheikh Abubakar Gumi warning that "Nigeria'll end if Buhari brands bandits terrorists"
---
According to The PUNCH Newspaper, President Muhammadu Buhari, on Monday, unveiled the Central Bank of Nigeria's digital currency, also known eNaira, in a keynote event attended by top government functionaries at the State House, Abuja
---
Nigeria central bank digital currency (CBDC), the eNaira, has gone live after an official launch by President Muhammadu Buhari on Monday, The Guardian Newspaper reports.
Front Pages Of Nigerian Newspapers Today 
---
Chairman of the Nigeria Economic Summit Group, NESG has called on the Federal Government, non-state actors, and ordinary Nigerians to act with what he described as "fierce urgency" to secure the future of the country, Vanguard Newspapers reports.
---
The Nation Newspaper reports, that President Muhammadu Buhari yesterday acknowledged that in the build-up to the 2023 elections, Nigeria's politics will be "necessarily rowdy".
Nigerian Newspaper Daily Front Pages Review
---
In line with efforts to enhance the payment system and boost transactions, Buhari launched the Central Bank Digital Currency (CBDC), also known as eNaira, in Abuja. ThisDay Newspaper says.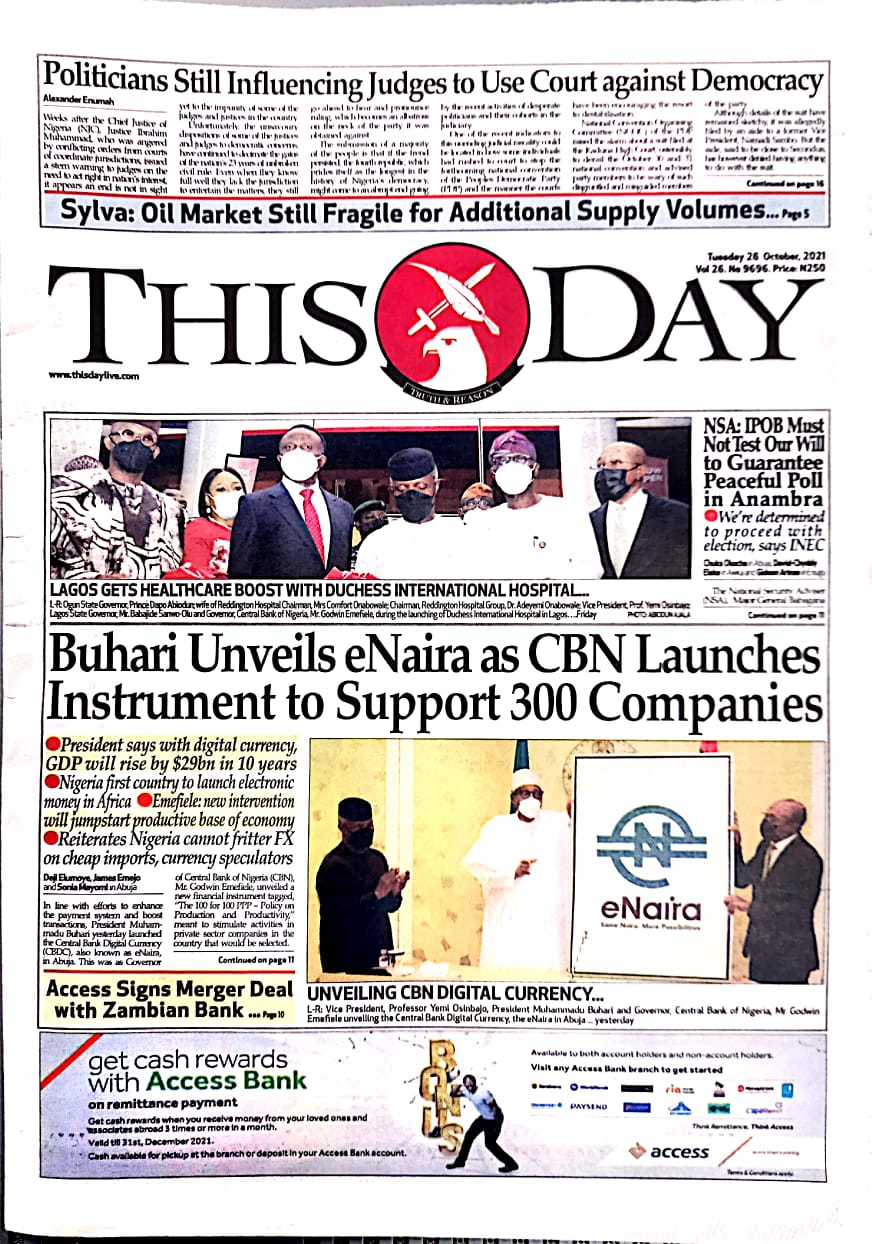 ---
According to Nigerian Tribune Newspaper, The Niger Delta is demanding 50% increase in derivation fund.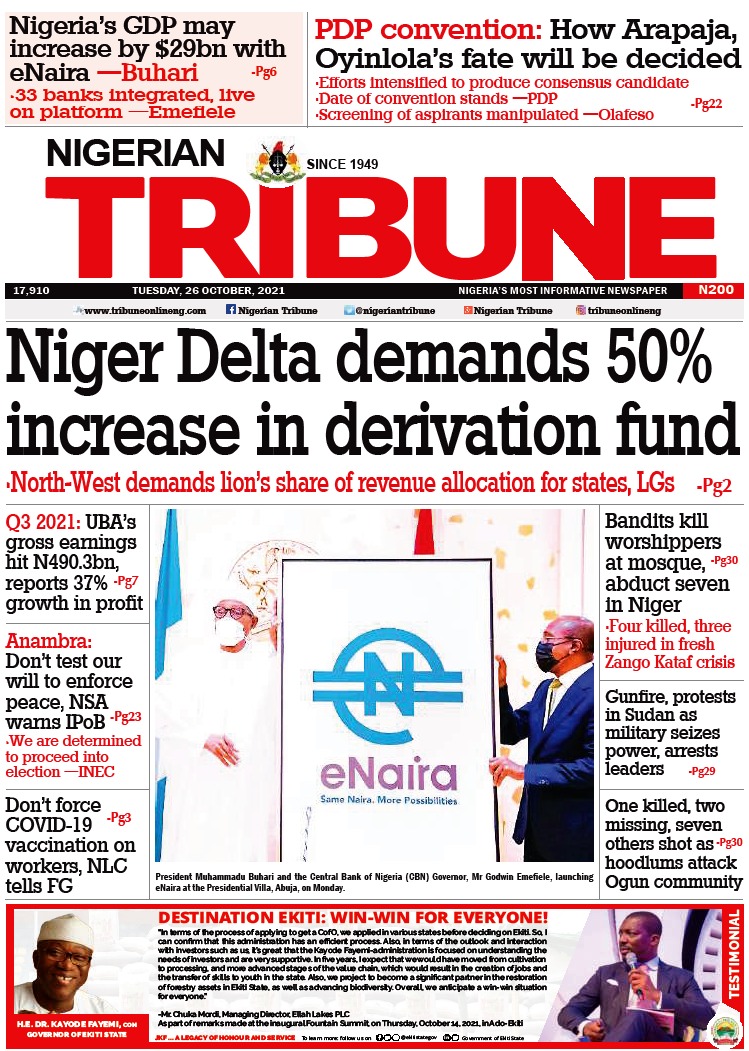 Thank you for reading, Top Nigerian Newspapers Daily Front Pages Review Tuesday, 26 October 2021, Ejes Gist News will see you again tomorrow for a review of Nigerian newspapers.
.