The Senator Who Said Nigerians Were Exaggerating Insecurity Under Buhari Has Spent 50 Days With Kidnappers.
Senator Nelson Effiong, the former senator who represented the good people of Eket Senatorial District in Akwa Ibom State, was kidnapped in Uyo, the state capital, a few weeks ago.
The senator has been with those who kidnapped him from the time he was kidnapped until now. Deji Adeyanju, a well-known human rights activist, decided to respond.
According to a post he made  on his verified Facebook page, Senator Nelson Effiong of Akwa Ibom State, who claimed that Nigerians were always exaggerating insecurity under President Buhari, has now spent more than 50 days in a kidnappers' den.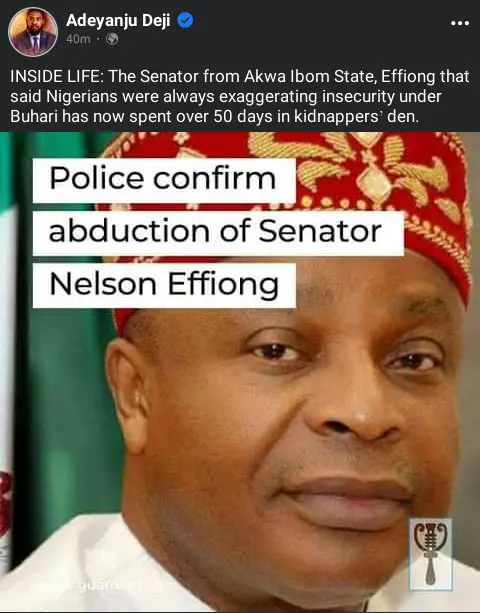 This is a very sad situation. I believe that now is the time for everyone to stand up and do something, because the way things are now, I don't believe that anyone in Nigeria is safe. If we are to progress as a country, we must do things correctly.
What is your take on this?