Electorates from across Ekiti State's 16 local government areas will go to the polls today to elect their governor for another four years.
In a few months, whoever emerges victorious today will succeed Governor Kayode Fayemi.
The electoral umpire, the Independent National Electoral Commission, INEC, had previously released the names of 16 candidates from various political parties vying for the number one seat
Analysts, on the other hand, have narrowed the field to three candidates.
They believe the contest will be between Bisi Kolawole of the PDP, Biodun Oyebanji of the APC, and Segun Oni of the SDP.
EFCC Arrests APC Agent for Vote Buying
The EFCC has arrested and paraded an alleged APC agent for vote buying. Read Full Details Here 
PHOTOS: Segun Oni of the SDP Votes
Segun Oni, the Social Democratic Party's governorship candidate in Ekiti, has voted at Polling Unit 010, Ifaki 2, Ekiti North.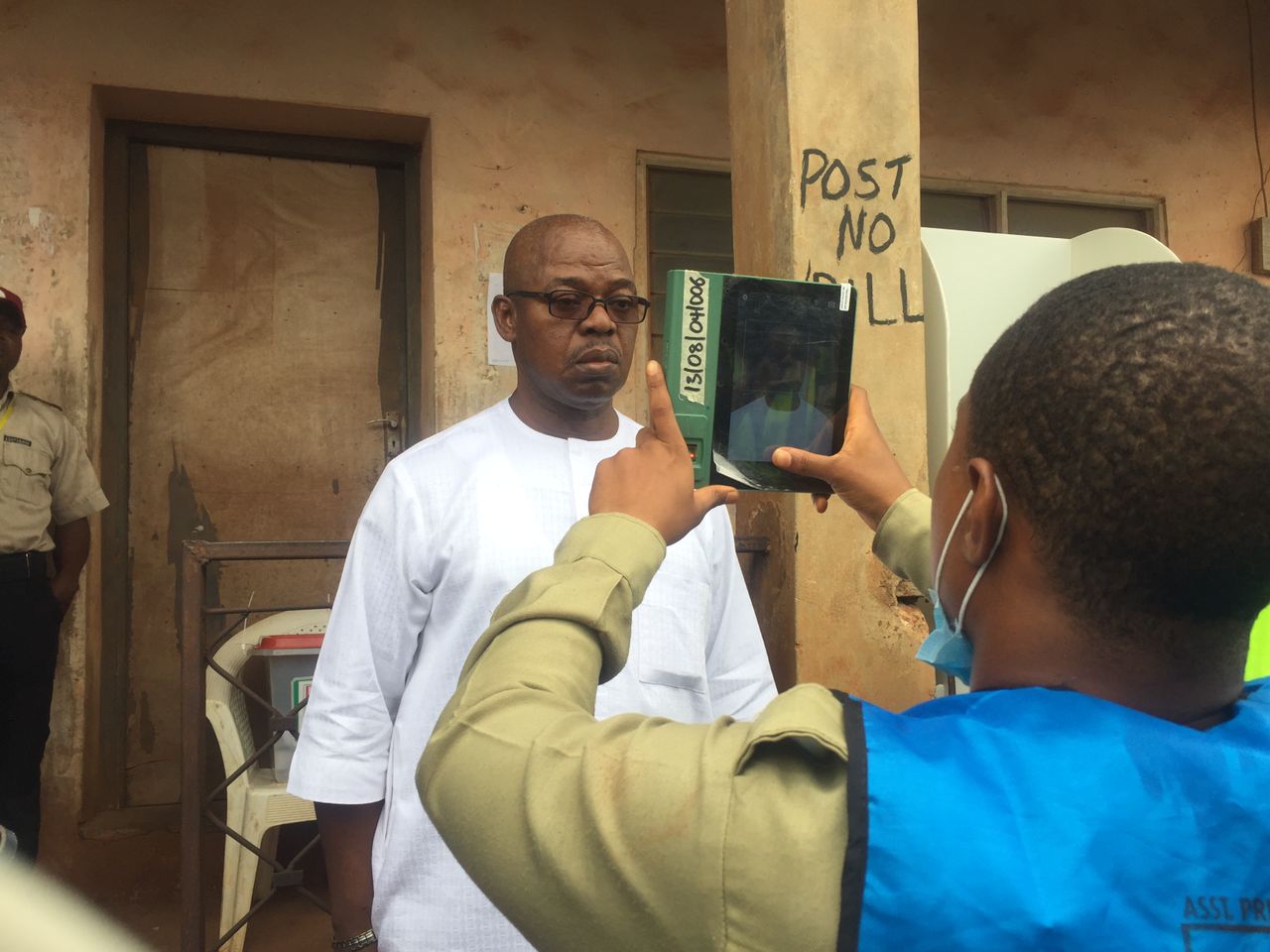 EFCC deploys operatives to curb vote buying
The Economic and Financial Crimes Commission (EFCC) has sent operatives to Ekiti state to monitor today's governorship election in the hope of detecting vote buying.
Some of the commission's operatives and armed police officers were seen in a convoy of five vehicles in Ado Ekiti, the state capital.
voting commences in Ekiti (photos)
Voters protest absence of stamp in Unit 4, Ward 2
Voters in Unit four, Ward two, Ikere local government area, are protesting the lack of a stamp, which has caused the voting to be delayed.
Many voters, including elders, had been accredited but were unable to vote because the ballot papers had not been stamped.
One of the voters, Prof. Aye Matthew, said it was absurd to prepare for an election without stamps. "There is a significant amount of lag here." Ordinary stamps are preventing us from voting.
"We've been waiting for the stamp, and we'll keep waiting until it arrives." We arrived at 8:30 a.m. and have been here ever since.
"The BVAS isn't working properly." It doesn't seem to be capturing everyone."
Officials from the INEC at the polling station, on the other hand, said they had requested a stamp.
He stated that the stamp would arrive soon, which is why accreditation has continued.
On the subject of BVAS, he explained that the hall in use was not bright enough, so the voters had to be captured outside.
APC Deputy Gov candidate Afuye wins polling unit
Mrs Mojisola Afuye, the ruling party's Deputy Governorship candidate in Ekiti State, has won her polling unit for the ruling party. Read Full details here…
INEC announces result of Segun Oni's polling unit
Segun Oni, the Social Democratic Party's (SDP) governorship candidate, has delivered his polling unit.
Oni received 218 out of 242 valid votes cast in Polling Unit 6, Ward 4, located at Town Hall, Ogbon Iro, Ifaki-Ekiti, Ido-Osi Local Government.
See result below…
APC 15 PDP 3 SDP 218
APC Wins In Senator Olujimi's Polling Unit
Senator Abiodun Olujinmi's polling unit was won by the All Progressives Congress (APC).
Last May, Olijimi, who currently represents Ekiti South Senatorial District in the National Assembly, won re-election on the People Democratic Party (PDP) platform.
Below are details from the unit…
Ward:07
Unit:07
Wesley United Primary School
Ekiti East Local Government
SDP: 46
APP:1
ADP:2
PDP: 110
APC Wins In Senator Olujimi's Polling Unit
APC 141
Ejes Gist Newspaper  is following the election closely and will post live updates, results, and breaking news from Ekiti here.
For Eyewitness report and updates send to Ejes Gist Newspaper via [email protected]