Justice Olukayode Ariwoola Takes Oath Of Office As Acting CJN
Justice Olukayode Ariwoola has been sworn in as the interim Chief Justice of Nigeria (CJN) by President Muhammadu Buhari on Monday June 27.
Mr. Ariwoola was sworn in as the next Chief Justice of Nigeria (CJN) after his predecessor, Justice Tanko Muhammad, resigned due to illness.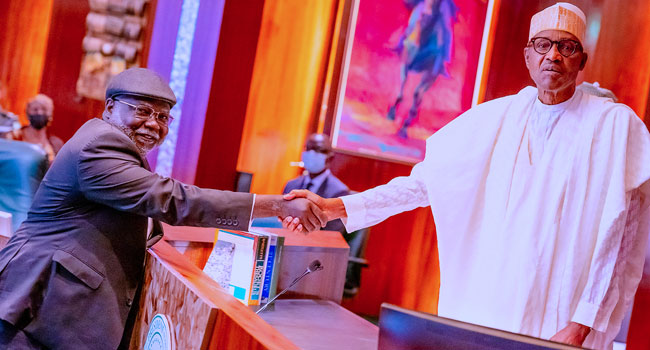 Ejes Gist Newspaper reports that prior to Justice Tanko Muhammad's resignation on Monday, Justice Olukayode Ariwoola was the senior Supreme Court Justice.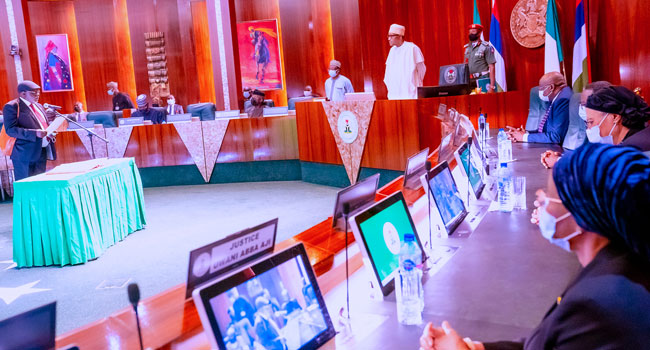 The Nigerian Supreme Court nominated Mr. Ariwoola, who was born on August 22, 1958, as a Justice in 2011.
According to Mr. Ariwoola's profile on the website of the Supreme Court, he was appointed a Justice of the Nigerian Supreme Court in 2011.
The lawyer, who is from Iseyin in Oyo State, formerly held the position of Justice of the Court of Appeal from 2005 to 2011 before being appointed to the nation's top bench.
He was a judge of the High Court of Oyo State from 1992 until his elevation to the Court of Appeal bench in 2011. He had previously worked as a private attorney.
Between 1959 through 1967, Mr. Ariwoola attended the Local Authority Demonstration School, Oluwole in the Iseyin Local Government of Oyo State where he began his schooling.
Between 1968 and 1969, he attended the Muslim Modern School in the same city before moving on to Ansar-Ud-Deen High School, Saki in Oyo North of Oyo State.
He received his bachelor of laws degree with honours in July 1980 from the University of Ife, which is now known as Obafemi Awolowo University, in Ile Ife, Osun State.
Don't Miss
---
Soon after, he was admitted to the Nigerian bar and enrolled as a solicitor and advocate in the Supreme Court of Nigeria.
He worked as a Justice of the Court of Appeal in the Kaduna, Enugu, and Lagos Divisions before being elevated to the Supreme Court.
Justice Olukayode Ariwoola will retire by 2028..
Thanks for reading Buhari swears in Justice Olukayode Ariwoola as acting CJN 
.