Defending champions Algeria has crashed out of AFCON 2021.
Defending champions Algeria crashed out of the Africa Cup of Nations with a 3-1 defeat against Ivory Coast in Douala.
Algeria trailed by two goals at halftime, needing a win to stay alive, after Franke Kessie completed a fine move and Ibrahim Sangare headed home.
Nicolas Pepe of Arsenal put the Ivorians up 3-0 before Algeria captain Riyad Mahrez hit the post with a penalty.
Algeria, who had Sofiane Bendebka score a late consolation, finished last in Group E after a dreadful season.
In the last five Nations Cup finals, Djamel Belmadi's team has been eliminated at the first hurdle three times.
Their exit from the competition is in stark contrast to their entrance, when they arrived in Cameroon with a 34-match unbeaten streak and the goal of breaking Italy's all-time record of 37 wins.
The Algerians drew 0-0 with Sierra Leone before losing 1-0 to Equatorial Guinea, leaving them with just one point from three games. However, they did finally score in Cameroon when substitute Bendebka's late goal inspired a brief rally.
The Elephants of the Ivory Coast won their group to set up a mouth-watering last-16 match against Egypt in Douala on Wednesday, January 26.
Algeria shell-shocked by Ivorian display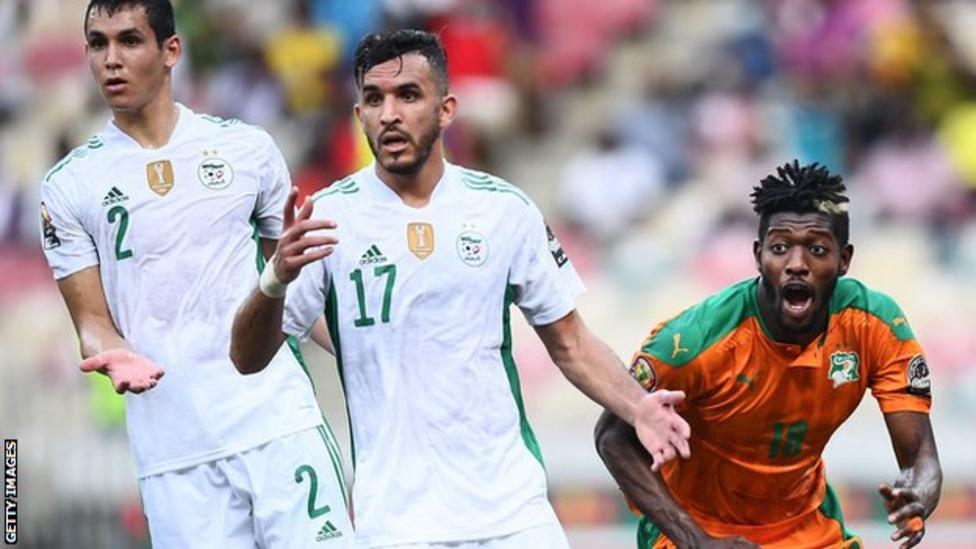 Before the game, the poor pitch in the Japoma Stadium was a major talking point as two recent former champions – Ivory Coast last won in 2015 – met in a final group tie that felt like a big occasion.
Algeria coach Belmadi had been perplexed by his team's lack of goals, and he must have sensed the worst when Ismael Bennacer clipped the post after 22 minutes, only for the Ivorians to score a minute later.
After a sweeping move ended with Max-Alain Gradel cutting the ball back for Kessie to side-foot home, all 12 Ivorian substitutes charged off to celebrate with the AC Milan star, leaving goal-shy Algeria with a two-goal deficit.
Sangare was inexplicably left alone at the far post to powerfully head home a fine cross from the impressive Serge Aurier. The North Africans look shell-shocked, and things quickly deteriorated as the Elephants converted good pressure to double their lead.
Belmadi knew his half-time speech was crucial, but it was the West Africans who pushed forward, forcing two good chances before Pepe scored his trademark goal, cutting in from the right flank and curling home with his left.
Any suspicions that Algeria would not have a good day were confirmed when Riyad Mahrez, who had been so good from 12 yards recently for Manchester City, smacked a penalty against the right-hand post in the 60th minute after Youcef Belaili had been felled.
Elephants display confidence
Ivory Coast coach Patrice Beaumelle began to rest players by making substitutions as an army of orange-clad Ivorian fans roared their approval, before Bendebka finally restored some respect for a team that had won the trophy three years ago in Cairo.
Sebastien Haller of Ajax thought he had added a fourth goal, his second of the tournament, when he headed home another Aurier cross late in the game, only to be called offside.
Ivory Coast deservedly won, displaying real belief as well as excellent strength and purpose, and Algeria's dejected players sat on the floor, staring into the distance in disbelief at the manner of their exit.
They became the 12th Nations Cup champions to lose in the first round of the competition while defending the title.