President Buhari suspends the Accountant General, Ahmed Idris, in connection with an N80 billion fraud.
Ahmed Idris, the  embattled accountant general of the Federation, has been placed on leave indefinitely by Zainab Ahmed, the minister of finance, budget, and national planning.
His suspension was approved by President Muhammadu Buhari and was announced today by the Finance Minister.
Ejes Gist Newspaper reports that Ahmed Idris, the Accountant General of the Federation, was arrested by the EFCC in connection with the N80 Billion Fraud.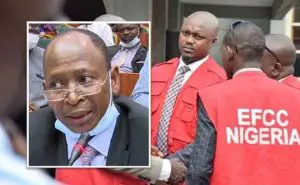 "The AGF raked in the funds through bogus consultancies and other illegal activities using proxies, family members, and close associates, according to the Commission's verified intelligence," Uwujaren said.
Ahmed Idris  Accountant General &  EFCC 
According to sources, Idris was summoned by the EFCC for interrogation several times after the investigation progressed, but he did not show up.
"We continued to invite him, but he kept avoiding us." "We had no choice but to keep him under surveillance and arrest him," the source explained.
His suspension comes two days after the Economic and Financial Crimes Commission (EFCC) arrested him for an alleged N80 billion fraud.