AFRICOM News  Update Today  
Shehu Sani, a former senator representing Kaduna Central, has criticised President Muhammadu Buhari's (retd.) call for the United States to move its Africa Command from Germany to Africa.
The US Africa Command is in charge of military affairs with African countries and regional organisations.
During a meeting with US Secretary of State Antony Blinken, Buhari called for its relocation, citing the continent's rising security challenges.
Many Nigerians have urged President Buhari to pursue international assistance to address the country's security problems.
"In my call with US Secretary of State Blinken, I requested that the US consider relocating the AFRICOM HQ from Germany to Africa—near the Theater of Operation; against the backdrop of growing security challenges in West and Central Africa, the Gulf of Guinea, the Lake Chad region, and the Sahel," he tweeted yesterday.
Shehu Sani, criticising Buhari's appeal for AFRICOM to relocate to Africa, said it was an open invitation for the continent to be recolonized.
Other international players, according to the former senator, will follow suit, resulting in the continent's military balkanization.
"The President's call for a World Powers military HQ on African soil is an open invitation for Africa to be recolonized," he tweeted. It's easier to say and persuade them to come, but it's difficult to persuade them to leave once they arrive.
"Once the United States moves its headquarters to Africa, Russia, China, Iran, Saudi Arabia, Israel, and other countries will follow suit, militarily fragmenting Africa; we will either become Korea or Syria.
"African countries should purposefully work together to face and resolve their security problems over the six decades since independence, while honourably pursuing international technical assistance. It is unconscionable for the US to move its @USAfricaCommand HQ to Africa."
The United States Africa Command (USAFRICOM, U.S. AFRICOM, and AFRICOM), is one of the eleven unified combatant commands of the United States Department of Defense, headquartered at Kelley Barracks, Stuttgart, Germany. It is responsible for U.S. military operations, including fighting regional conflicts and maintaining military relations with 53 African nations. Its area of responsibility covers all of Africa except Egypt, which is within the area of responsibility of the United States Central Command. U.S. AFRICOM headquarters operating budget was $276 million in fiscal year 2012.
History of Africom
For the past 13 years, U.S. Africa Command has worked with African partners for a secure, stable, and prosperous Africa. In response to our expanding partnerships and interests on the African continent, the U.S. established AFRICOM in 2007.
The single most important focus then, as it is today, was developing enduring partnerships. The creation of AFRICOM has provided coherence to U.S. military efforts in support of the U.S. Strategy for Africa, enabling our nation to better focus efforts and resources on programs that make the most difference.
Much of what AFRICOM has built is based on partnerships – partnerships with African nations, international allies, interagency departments and non-governmental organizations. AFRICOM is committed to a whole-of-government approach, which is why the command has worked to help African nations enhance their own security through development across many sectors, including defense, governance and economic development.
---
Establishment of U.S. Africa Command 
On Feb. 6, 2007, then-U.S. President George W. Bush directed the creation of U.S. Africa Command. The decision was the culmination of several years of deliberation within the Department of Defense (DoD) acknowledging the growing strategic importance of Africa. The new command would ensure DoD harmonized its efforts in Africa with those of U.S. Department of State as well as other U.S. government agencies.
AFRICOM assumed responsibility for U.S. military activities in areas that had been part of three geographical commands previously, and now included all of Africa except Egypt. AFRICOM was chartered to conduct sustained security engagements to promote a stable and secure political environment in Africa in support of U.S. foreign policy.
Following the decision by Bush to establish a command to oversee all U.S. military activities in Africa, AFRICOM began to organize as a sub-unified command of U.S. European Command. The reduction of U.S. military forces stationed in Europe made space available for a headquarters in Stuttgart, Germany. U.S. European, Central, and Pacific Commands (which previously held this responsibility for different parts of the continent) transferred their missions to AFRICOM. Because of the relationship between security, development, and diplomacy, the designers of the new command included management and staff members from the Department of State, U.S. Agency for International Development, Department of Treasury, and other U.S. government agencies involved in Africa.
---
2008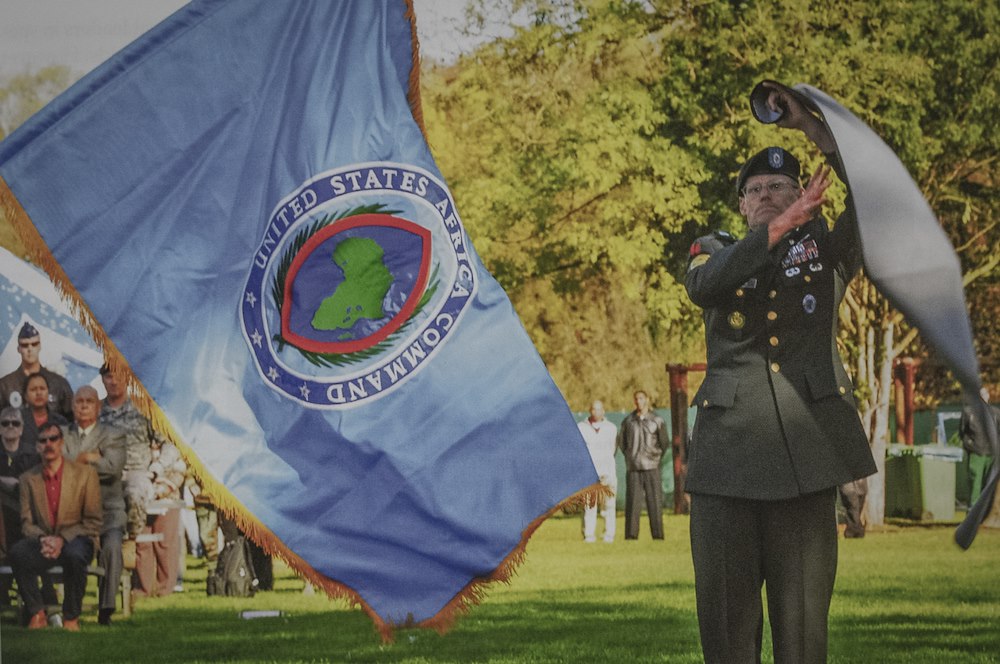 On Oct. 1 AFRICOM became fully operational. Service components aligned under AFRICOM included U.S. Army Africa, U.S. Naval Forces Europe and Africa, U.S. Air Forces Europe and Africa, U.S. Marine Corps Forces Europe and Africa, and Special Operations Command Africa. Combined Joint Task Force – Horn of Africa, established in 2002, also transferred to AFRICOM and continued its mission to strengthen the operational and institutional capabilities of East African partner-nation militaries from a forward operating site in Djibouti.
After the U.S. government announced the creation of AFRICOM, the first leaders of the new command began engaging with African officials. Offices of Security Cooperation increased from 9 to 40. By 2015 the number of Defense Attachés increased to better manage security cooperation programs in Africa.
---
2009
While Combined Joint Task Force – Horn of Africa began to support international efforts to combat piracy off the coast of Somalia, AFRICOM continued other maritime activities the U.S. had started before the creation of the new command. U.S. Naval Forces Europe and Africa facilitated exercises and security cooperation programs designed to improve maritime safety and security in Africa, especially in the Gulf of Guinea.
---
2010
Through the AFRICOM joint exercise program, U.S. forces continued to train with partner nations to increase the capability of African defense institutions to address regional security challenges. The Accord series, for example, focused on countries contributing forces to United Nations and African Union peace support operations, in which African forces increasingly shouldered the burden. The exercise program evolved under AFRICOM. Events become fewer in number and more regional in focus, and host nations welcomed the participation of an ever-larger number of countries and international organizations. All participants benefited. The ongoing series of Medical Readiness Training Exercises allowed U.S. personnel, for example, to work with African medical professionals in remote areas.
---
2011
U.S. military personnel deployed to central Africa to serve as advisors to forces of the African Union Regional Task Force, which worked to defeat Joseph Kony and other senior Lord's Resistance Army leaders. The operation continued for several years in order to protect local populations. The U.S. also intervened to protect civilians in Libya. Because it was established primarily to focus on engagement and security assistance, AFRICOM had few assigned forces to conduct operations in Libya. AFRICOM therefore relied heavily on U.S. European Command and other commands for the necessary resources to carry out a non-combatant evacuation and military operations in cooperation with European allies and other partners.
---
2012
Following the 2012 attack on a U.S. diplomatic mission in Libya, AFRICOM positioned additional personnel in Europe and Djibouti to respond to future crises. The East African Response Force and Special Purpose Marine Air-Ground Task Force – Crisis Response – Africa rehearsed these operations regularly. In times of crisis, elements of these units deployed to Africa to enhance the security of a U.S. Embassy, or if necessary to assist with the departure of citizens and non-emergency staff.
In 2012 AFRICOM also established a Women, Peace, and Security Working Group, which conducted seminars about the importance of recruitment, retention, and training of military women, as well as protecting civilians during peacekeeping operations.
---
2013
The U.S recognized the Federal Government of Somalia in January 2013 and resumed military-to-military engagement with Somali security forces. AFRICOM continued to counter the terrorist threat posed by al-Qaeda and al-Shabaab through direct military operations, and by assisting troop-contributing countries in preparing their forces for deployment to the African Union Mission in Somalia. U.S. military personnel also deployed to support international stabilization missions in Mali.
---
2014
In the largest contingency operation it has led, AFRICOM assisted USAID in responding to an Ebola outbreak in West Africa. AFRICOM established Joint Force Command – United Assistance to provide logistics and engineering support, as well as to train health care workers. Liberia's military worked effectively with U.S. forces, demonstrating the success of a multi-year program to rebuild the Armed Forces of Liberia. AFRICOM also worked with countries in the region to improve their capacity to respond to future epidemics.
---
2015
The new programs President Barack Obama announced in 2014, the Counter-Terrorism Partnerships Fund, African Peacekeeping Rapid Response Partnership, and Security Governance Initiative, ensured AFRICOM had resources available to help partner nations combat terrorism within their borders and to improve their ability to deploy forces in support of United Nations peacekeeping and African Union peace support missions. The U.S. also provided defense equipment and services, as well as military education and training, to support the efforts of Benin, Cameroon, Chad, Niger, and Nigeria in the fight against Boko Haram through the Lake Chad Basin Commission's Multi-National Joint Task Force. The State Partnership Program also expanded, in which AFRICOM paired U.S. National Guard organizations with African countries in an enduring relationship designed to improve defense institutions' ability to provide security, respond to disasters, and manage crises.
---
2016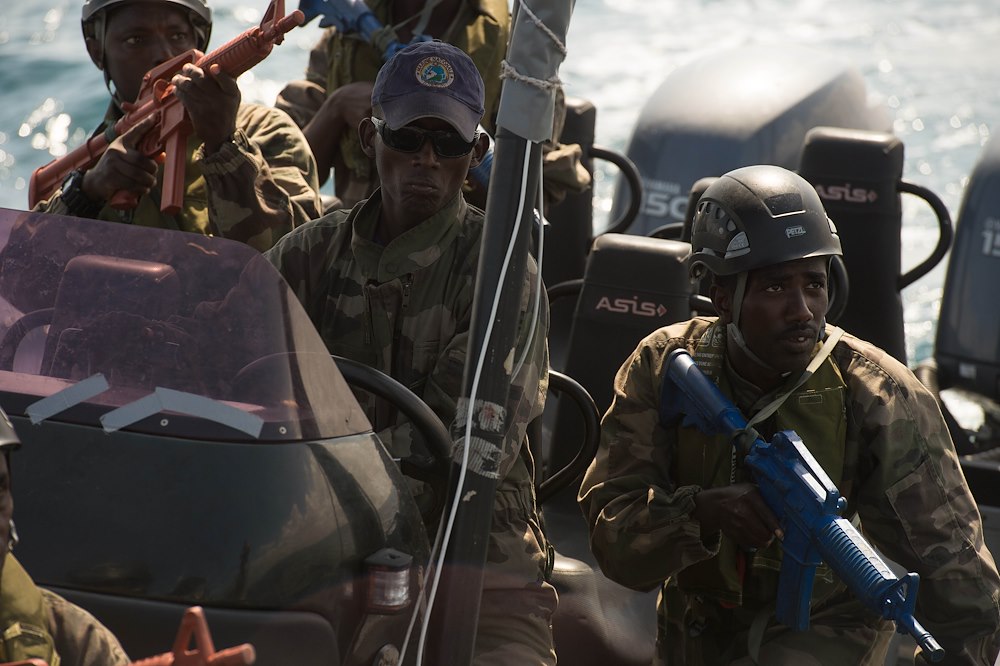 In cooperation with the Libyan Government of National Accord, AFRICOM conducted nearly 500 precision airstrikes to help Libyan forces drive Islamic State (Daesh) terrorists from Sirte. The U.S. remained committed to working with Libya and other partners to counter the evolving threat of violent extremists in North Africa.
In other engagements, AFRICOM continued to facilitate discussions among the U.S., several African nations and other interested countries, the African Union, the European Union, and the United Nations on improving logistics at the Africa Logistics Forum in Accra, Ghana..
Important Terms 
africom
africom headquarters